Pankaj Ghemawat's long awaited book, WORLD 3.0: Global Prosperity and How to Achieve It, hits stores May 17th!
13th May 2011 - 2807 days ago
page 1 of 2

As countries tighten up their borders in fear of trade imbalances, immigration and the next global financial crisis, economic growth is threatened just when we need it most, warns award-winning global economy expert Pankaj Ghemawat in WORLD 3.0: Global Prosperity and How to Achieve it (May 17, Harvard Business Review Press).

Backed by surprising data, WORLD 3.0™ offers a completely new way of looking at globalization with implications for whom we should be trading with and how we should regulate international interactions, so that we can turn the tide against today's rising protectionism and unfounded anxieties about globalization.

For too long, governments, business, and the general public have been stuck in a tug of war between two opposing worldviews, World 1.0 (a protectionist, regulated world) and World 2.0 (in which the world is seen as flat and corporations are stateless entities, a view espoused most notably by Thomas Friedman). Ghemawat argues that both these views are flawed because they don't fit the facts. Instead, he proposes a more accurate description of the world economy, which he calls, "World 3.0™," based on the compelling evidence that we are in a state of semiglobalization.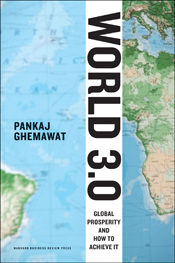 Pointing to data on trade, capital flows and immigration levels, Ghemawat shows that actual levels of globalization are far lower than many of us think and this implies we have tremendous potential to expand prosperity by increasing integration. And, while globalization reduces the need for many kinds of regulation, he argues that we need "right-touch" regulation to manage the side-effects - often grossly exaggerated - that it does have.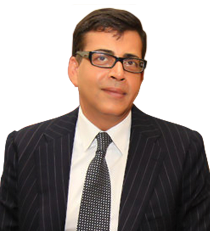 Pankaj Ghemawat
Professor of Global Strategy & Bestselling Author
Only 10-25% of most types of economic activity is international. Even more surprisingly, the lion's share of that activity is between countries that are similar (e.g., that share borders/trading blocs, a language or colonial ties). As distances and differences between countries increase, their economic interactions typically decrease. In fact, the vast majority of investments are "deeply rooted" in their home countries.
For example, 80% of global stock market investment is in companies headquartered in the investor's own country. And, for U.S. companies that do business with only one foreign country, that country is Canada 60% of the time. Understanding actual levels of globalization can enable governments and businesses to shape policies to better serve their needs and preferences. They have much more flexibility in deciding what kinds of trade barriers to remove entirely and which to maintain or even raise higher.
Ghemawat adds that, "since it is infeasible for most companies to invest in every market, they need to zero in on those places where they are best positioned to add real value. This requires really understanding selected markets and demonstrating deep commitments there to customers, suppliers, governments, and the public at large - a far cry from the imperialist approach of pushing globally standardized products and pressing others to conform to your way of doing business."
CSA News
Bjorn Lomborg has been selected as one of the Top 100 Global Thinkers of 2011 by Foreign Policy magazine.

John Thackara's talk was "Brilliant" at the Mayo Clinic's innovation conference Transform 2011!

Sigourney Weaver gave a 'simply fantastic keynote' in Malaysia!

Ray Hammond and Richard Quest left their audience in Beijing with a "tremendous closing message".