Sir Tim Berners-Lee receives Lifetime Achievement Award
26th July 2012 - 2367 days ago

On 26th July at the House of Lords, Sir Tim Berners-Lee joined many other dignitaries and global celebrities at the Innovation 101 Power Breakfast, hosted by the United Nationals Office for Humanitarian Affairs.

Sir Tim was recognised for his many outstanding achievements and was honoured to receive the 'Innovation 101 Lifetime Achievement Award', presented to him by Dr Hamadoun Toure, UN Secretary General for the ITU.

Among other award recipients was Angelina Jolie, who received the UN Humanitarian Award; the audience of other high profile guests who were present to witness the occasion included Microsoft Co-Founder Paul Allen, UK Deputy Prime Minister Nick Clegg, Baroness Amos - UN Under Secretary General, Sir Bob Geldof - Anti Poverty Campaigner, Dr Hamadoun Toure - Secretary General ITU, Philanthropist Howard Buffet Jnr, Sir Evelyn & Lady Lynn de Rothschild, Philanthropist & Entrepreneur Lakshmi Mittal, Angela Aranhandt - CEO Burberry, Dambisa Moyo - Economist & Author & Megan Smith - Head of Google.org.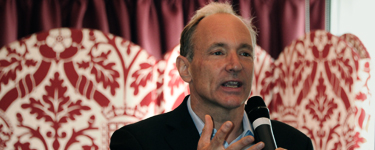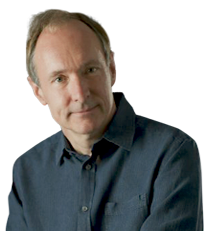 Tim Berners-Lee
Inventor of the World Wide Web
Sir Tim, inventor of the World Wide Web, continues his pioneering and invaluable work today. He is the Director of the World Wide Web Consortium (W3C), a Web standards organization founded in 1994 which develops interoperable technologies.
He is also a Director of the World Wide Web Foundation, launched in 2009 to coordinate efforts to further the potential of the Web to benefit humanity.
He has promoted open government data globally and is a member of the UK's Transparency Board.
In 2009 he was elected a foreign associate of the National Academy of Sciences.
CSA Celebrity Speakers is proud to applaud Sir Tim on this wonderful occasion and to represent such a unique human being exclusively for all speaking engagements.
CSA News
Bjorn Lomborg has been selected as one of the Top 100 Global Thinkers of 2011 by Foreign Policy magazine.

John Thackara's talk was "Brilliant" at the Mayo Clinic's innovation conference Transform 2011!

Sigourney Weaver gave a 'simply fantastic keynote' in Malaysia!

Ray Hammond and Richard Quest left their audience in Beijing with a "tremendous closing message".